Our Fleet

Host an Event in the Charleston Harbor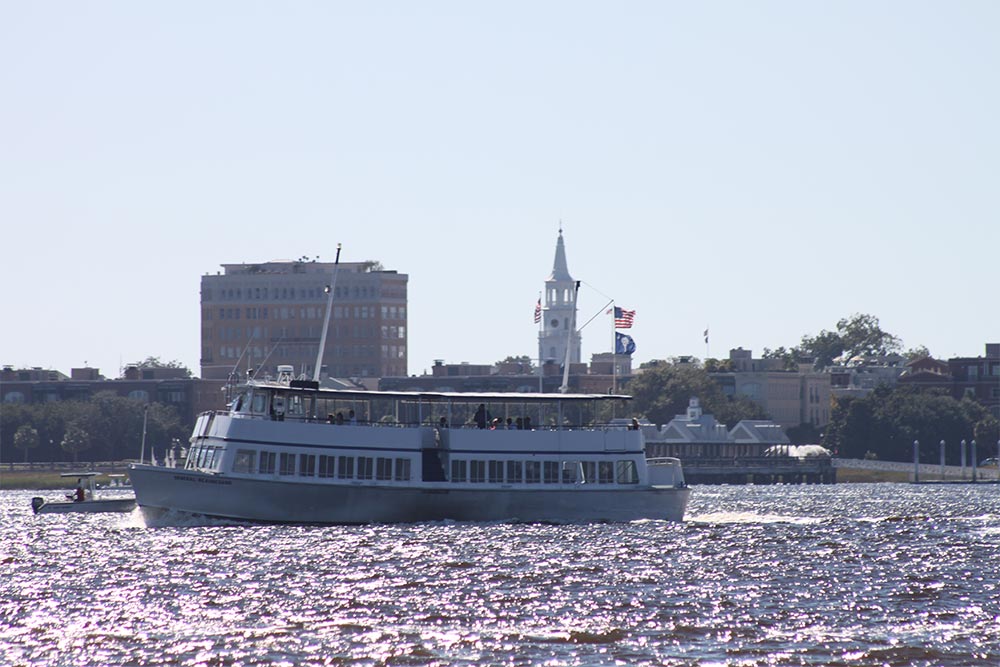 Palmetto Spirit
The Palmetto Spirit is a custom-designed touring vessel. It has fixed seating throughout the lower deck and comfortable for a tour of the Charleston Harbor. There is a large snack bar and space for food display.
Length: 70 feet – Width: 26 feet
Capacity: 125
Palmetto Spirit FAQ's
Your charter rental fee includes a captain, on site venue manager, crew, tables and chairs. No fuel surcharge or docking fees are required. Additional hours of charter time may only be negotiated with SpiritLine Cruises & Events group sales persons, prior to departure on the cruise. Three hour charter of which 30 minutes is reserved for boarding.
SpiritLine Cruises & Events maintains all bar privileges. Outside alcohol is prohibited.
If you have guests that require handicap access please communicate to your SpiritLine venue manager contact when booking your event. Extreme high or low tides can and will affect accessibility.
Patriots Point only middle deck is accessible
Aquarium Wharf only lower deck is accessible
Patriots Point – 40 Patriots Point Road (large parking lot in front of USS Yorktown). Guests pay for surface parking at guardhouse (cash and credit card accepted).
Aquarium Wharf – 24 Calhoun Street (corner of Calhoun and Concord). Guests pay for garage parking.
Patriots Point offers free bus parking.
Aquarium Wharf will require permitting directly from the City of Charleston.
Vessels run rain or shine. We do not cancel, refund or reschedule for inclement weather. If the captain deems the weather unsafe to cruise, we may choose to remain dockside (this can include high winds), any refund issued would be at the discretion of the sales department. If the event must be cancelled completely because of dangerous weather, a full refund or reschedule would be offered.